Pistachio arranged rum:
In the tradition of nuts, this arranged rum is very easy to make: do not hesitate! (especially if you are patient). You can make the recipe directly in the bottle. This original recipe is -really- easy.
Take peeled and unsalted pistachios, and fill a quarter of the bottle (one liter) with them. Cinnamon is not mandatory
Cut the vanilla pod lengthwise
Add five tablespoons of liquid sugar and close the bottle
Place the latter in a dry place and away from light
It is also recommended, as for other recipes, to use organic ingredients. Vanilla and cinnamon aim to stabilize flavors over time. It is necessary to stir it from time to time, to prevent the pistachios from sticking together and rotting at the bottom of the bottle.
This rum requires a very long maceration but you will be surprised by its flavour (especially if you know pistachio as an aperitif!)
Pistachio rum has a competitor, arranged peanut rum. The maceration is a little shorter but the taste is less pronounced and above all more fatty, so be patient and enjoy the pistachio arranged rum recipe!
Identity card
Eye: dark reflections, green tint
Mouth: syrupy, caramelized
Nose: woody note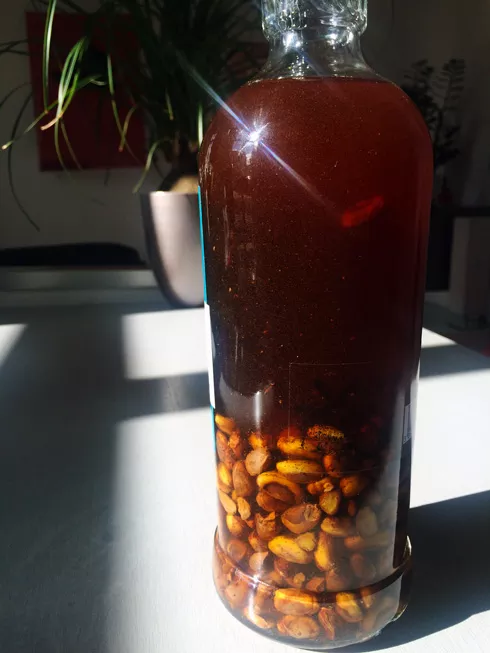 The best things need patience.