Roussanne peach arranged rum
I am a Béarnais by heart, I had to make a purely Béarnais arranged rum every day. This is how the idea of the Roussanne Peach Arranged Rum was born. Why the Rum Arrangé Peach Roussanne? As I have already told you in some of my articles, my father was the son of a winegrower. But where from? Well, from a small town in Béarn called Cuqueron. Yes, I'm not kidding, it's the name of my father's childhood town. This competes with Moncuq 😂.
Even though I have always lived in Paris, I have always been attached to this beautiful region. So, when I started making arranged rums, the idea of making an arranged rum that could have the identity of Béarn began to sprout in my head. One of the emblems of Béarn is the Jurançon. So I started thinking about a rum arranged with the little manseng. Petit manseng is a grape variety used to make the sweetest Jurançons. My uncle is still a winegrower and still owns the family farm, it wouldn't have been very complicated to have the raw material.
Last summer, my idea of this arranged rum changed completely. I spent a stay in the south right at the time of the harvest of the Roussanne peach. It is a native Béarn peach that has the particularity of being large, very juicy and fruity. It is a very rare variety and is produced in Cuqueron. During the village festival, pieces of Roussanne peach are served, which have macerated in Jurançon. The idea was born when I changed it this summer. It's so good this little fresh and tasty compote. The recipe had to contain these Roussanne peaches and Jurançon 😋.
The Roussanne fishing is only found in the Béarn. It is a very fragile fruit that can only be harvested two weeks a year and should be eaten within two or three days of harvesting. My uncle loves this fishery and every year he participates in the harvest. To perfect this recipe, I decided that it would be peaches macerated in Jurançon that would serve as the basis for macerating this arranged rum.
For Jurançon, I opted for a small manseng from Lacabe, one of my favorite Jurançons. It is therefore a beautiful alliance of two passions, the Béarn region and rum. For the rum, I wanted to take one that would give a lot of freshness to the whole. My choice was the Clément Canne Bleue at 50°. I introduce myself With this little introduction, you may have understood that I was not Alexis.
Who am I ?
I am Régis of the blog Rum and Whisky. I suggested publishing this recipe for Alexis' blog. It's an arranged rum that I particularly like and I thought it would come out of what Alexis is used to publishing on his blog. And conversely, he offered me a recipe to publish on my blog. To quickly tell you who I am, I like rum in almost all its forms. On my blog, I make tasting notes of white, old, Hispanic, English or agricultural rum. I also make recipes for rum arranged as on Alexis' blog. Finally, I learn a lot about rum making and its history and I try to convey in my articles what I have learned. Here, I'll let you continue reading about this superb arranged rum!
The recipe
The recipe is very simple:
70 cl of white agricultural rum;
5 Roussannes peaches;
 15 cl of Jurançon small manseng.
A preparation in two phases of maceration:
You have to start by preparing the fruit. Peel the peaches and cut them into pieces;
Put the peach pieces in a container and pour the Jurançon into it at a height of;
Let the peach macerate in the Jurançon for a minimum of 24 hours and in the refrigerator;
After maceration in the Jurançon, put the peaches with the Jurançon in the bottle and complete with the rum and leave to macerate. The recipe is very simple, even if it requires a double maceration.
The maceration
After three months of maceration, the rum is ready to be enjoyed. Personally, I let it macerate for 6 months before opening it the first time. The fruits gave the rum a good and beautiful orange-yellow colour 😍. It is a rum that can be left to macerate for a long time without any problem, 1 year, 2 years.
The cost price of the recipe
It's not a very expensive arranged rum:
70 cl of rum, 15 euros;
5 Roussanne peaches, about 2 euros;
15 cl Jurançon small manseng, 3 euros.
The cost price of this arranged rum is therefore 20 euros. Barely more expensive than basic rum.
Originality of the recipe
I think there is a beautiful originality in this recipe especially with the first maceration of the fruit in Jurançon. The fruit remains classic, even if I have chosen a very particular and rare variety. Alcohol level It is between 40 and 45 degrees of alcohol. Aging No ageing for this rum. Maceration in a glass bottle and it is white agricultural rum. The colour It has a beautiful orange-yellow colour. It is slightly opaque with a lot of deposit. Tasting Aromas Asparagus, peach, fresh cane, pepper, grass.
The nose
On the nose, it is surprising, the fresh cane is still very present and still vegetal. It is even very vegetable, because it is on asparagus. Yes, it's really asparagus that we have mainly on our noses, it's very surprising. The fishing is still good there, it takes a little while to surface, but it is still a delicate fruit. You don't really feel the presence of Jurançon, but I think the asparagus aroma is due to Jurançon mixed with rum.
The mouth
The palate is round and smooth. The esters very quickly take the mouth with a slightly spicy pepper. The fresh cane is therefore still very present in the mouth. Asparagus is not found in the mouth. It is not sweet, but rather greedy. It is a very fresh little peach that you have in your mouth and that does not last long. The finish The finish is longer with a beautiful fresh and vegetal pepper. Do we find the aromas of maceration again? The peach is well present both in the nose and in the mouth. But the Jurançon is not there or is completely modified by maceration with rum. The fresh cane of white rum is always present.
Ideal tasting method
This arranged rum is to be enjoyed pure with one or two ice cubes if desired. He's even very well just crazy. My pleasure in tasting I took an amazing pleasure in tasting this arranged rum. It has an aroma that I didn't expect at all. This aromatic on slightly iodized asparagus is surprising and at the same time, it may make sense. I think it was the Jurançon that brought this characteristic.
The balance sheet:
The bottle: 2/5
Difficulty of the recipe: 5/5
Originality: 4/5
The color: 3/5
The nose: 18/25
The mouth: 16/25
The final: 7/10
Do we find the aromas of maceration: 5/10
My pleasure in tasting: 8/10
The overall score for this rum is therefore 68 out of 100.
Win a sample of this arranged rum
This is the first time I've published an arranged rum recipe on another blog, so for the occasion, I'm going to win a sample of this arranged rum. For that, it's simple, just leave a comment under this recipe and don't forget to leave your email. It's so you can contact you if you win. The game is of course reserved for adults only.
Conclusion
I made this rum fixed before I started making videos. Today, I think I would have liked to film this preparation. I could have gone to film the peach harvest. Maybe, do an interview with the Lacabe to talk about this superb wine that I love. It's an idea I really like. I think I would do it next summer. What did you think of that? Tell me in commentary. A shared rum is a tenfold pleasure. Remember, alcohol abuse is dangerous to your health. To be consumed in moderation.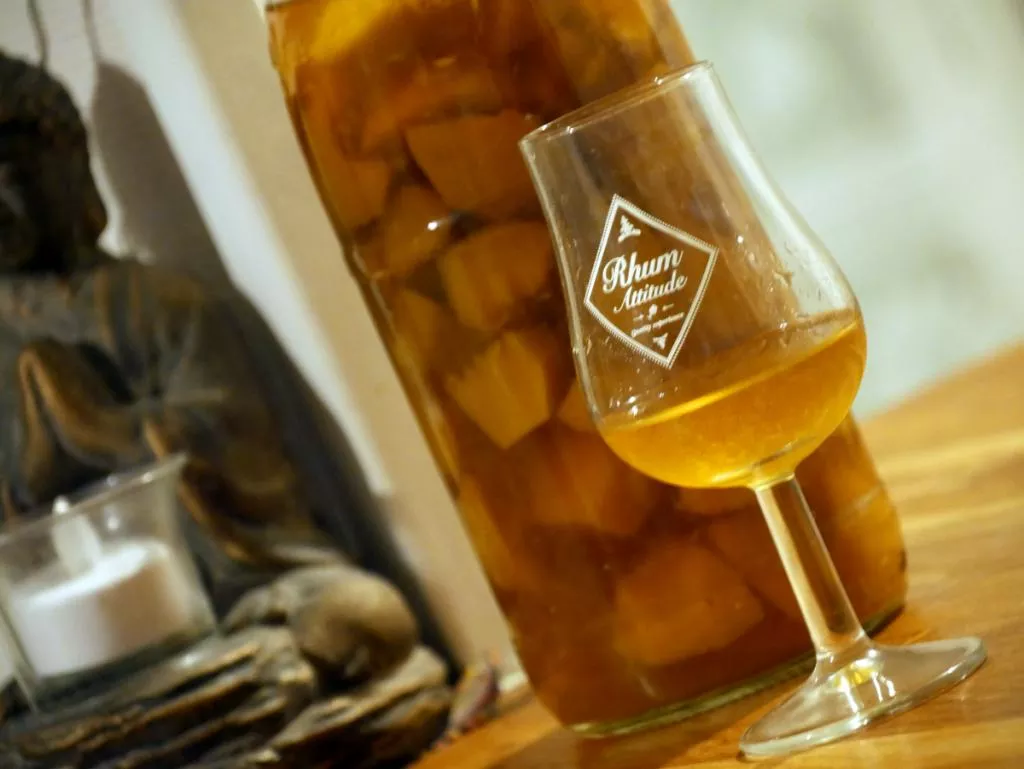 An original recipe of incredible arranged rum. With peach from south of France.
Share your own recipes
Just register (it's free!) to post your recipes. Click here.